Guanella Pass Campground
Arapaho-Roosevelt National Forest / Clear Creek Ranger District
The old mining town of Georgetown sits 45 minutes, on I-70, west of Denver, CO. The Guanella Scenic and Historic Byway follows and old wagon route that linked Georgetown to Grant; another former mining town. The byway is not recommended for large RV's. Ghost towns dot the area.
Guanella Pass Campground is about 7 miles south of Georgetown climbing in elevation about 2,000 feet. It sits on the banks of the South Fork of Clear Creek which is great for trout fishing. Hiking, fishing, wildlife viewing and scenic driving opportunities abound in the area.
The campground is split into two loops by the county road and South Fork Clear Creek. There are 17 sites in the campground. Ten are suitable for RV camping and seven are more suitable for tents. Most of the sites are in the open with some tent sites located among some spruce trees. Each site has a tent pad, picnic table, fire ring and charcoal grill. The roads through the campground are gravel. Hand pumps with potable water, vault toilets and trash dumpsters are provided in the campground.
A portion of the campground may be opened by Memorial Day as the snow melts and the ground dries out. 2/3 of the campsites are available for reservations up to 6 months of your arrival date.
Rocky Mountain Views
in Guanella Pass Campground, near Georgetown, CO
Welcome
to Guanella Pass Campground, near Georgetown, CO
Creek
in Guanella Pass Campground, near Georgetown, CO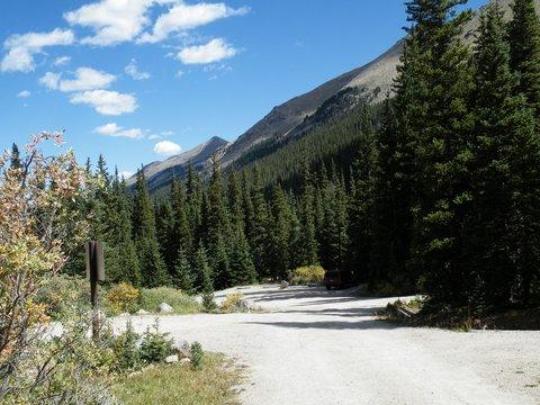 Campground views
in Guanella Pass Campground, near Georgetown, CO
Restrooms have vault toilets
in Guanella Pass Campground, near Georgetown, CO
Rocky Mountain setting
in Guanella Pass Campground, near Georgetown, CO
Tent camping
in Guanella Pass Campground, near Georgetown, CO
Developed campsites
in Guanella Pass Campground, near Georgetown, CO
Roomy campsites
in Guanella Pass Campground, near Georgetown, CO
Separation between sites
in Guanella Pass Campground, near Georgetown, CO
High elevation camping
in Guanella Pass Campground, near Georgetown, CO
Beautiful views
from Guanella Pass Campground, near Georgetown, CO
Hand pump for drinking water
in Guanella Pass Campground, near Georgetown, CO
Fall foliage
in Guanella Pass Campground, near Georgetown, CO
Mountain streams
in Guanella Pass Campground, near Georgetown, CO
right-click to view and print map
Hiking
in Guanella Pass Campground, near Georgetown, CO
Wild goats
in Guanella Pass Campground, near Georgetown, CO
Wildlife
in Guanella Pass Campground, near Georgetown, CO
Long, level parking
in Guanella Pass Campground, near Georgetown, CO
Stunning mountain views
in Guanella Pass Campground, near Georgetown, CO
Stairs in some campsites
in Guanella Pass Campground, near Georgetown, CO
RV friendly
in Guanella Pass Campground, near Georgetown, CO
Roomy campsites
in Guanella Pass Campground, near Georgetown, CO
Nice spacing between campsites
in Guanella Pass Campground, near Georgetown, CO