Sam Owen Campground
Local residents often find interesting ways to keep their little piece of paradise for themselves. Finding "Sam Owen Campground", in the Idaho Panhandle, on Google Maps is difficult. But "Samowen Campground" will get you there.
The campground is located on the Hope Peninsula of Lake Pend Oreille (pond oh-ray) shaded by huge Ponderosa Pines and Cedars. This Forest Service campground is on the David Thompson Wildlife Preserve and provides interpretive displays on the Kullyspell House. Our neighbors, lovingly known as the Beyond Hope resort community, have a marina for mooring your boat during your stay at Sam Owen Campground.
Campsites range from full sun to mostly shaded. About 50 sites are reservable. Most of the first-come-first-serve sites are in the Red Sun Loop.
Miles of hiking trails are close by; including one to the Sam Owen family gravesites across from the campground. Many wild birds can be viewed in the campground and on the lake; including osprey, eagles, pileated woodpeckers and hummingbirds. The whitetail deer are fun to watch. They seem very tame but remember that they are wild and unpredictable. Deer have learned how to open a cooler while you're out playing on the lake. Store your food safely. This is bear country. Please leave your bird feeders (sugar and seed) at home, as they also attract bears. Do not feed the wildlife if you don't want them in your tent while you sleep.
Download a free picture guide to help you identify the common critters in Sam Owen Campground: Sam Owen Picture Guide
Surf's Up! Hangin' ten off the dock
Sam Owen Campground near Sandpoint, ID
Young bear was easily scared away
Sam Owen Campground, near Hope, Idaho
- photo by Jennifer Wiltrout, Campground Manager 2014/15
Smokey skies
Sam Owen Campground near Sandpoint, ID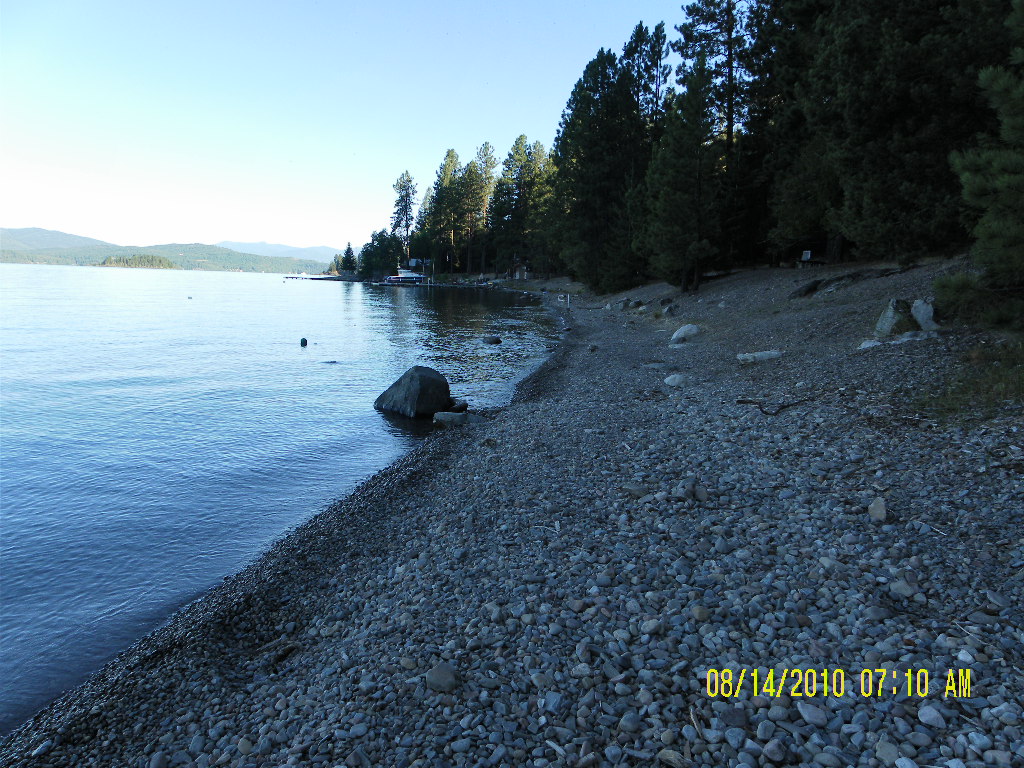 Dog Beach
Dogs must have their humans with them at all times. The rocky beach to the right (west) of the boat launch is open for pets to go swimming with their owners. Pets are not allowed on the swimming beach on the other side of the boat launch.
Black Bear in Camp
Black bears live in the area. Practice safe food storage to keep them out of your campsite. A fed bear is a dead bear.
Boat Launch on Lake Pend Oreille
The dock may only be used for loading and unloading. Do not tie your boat to the dock. It is not safe to beach your boat. Winds can come up unexpectedly and damage your boat as it slams it into the rocky shore. 
Sam Owen Boat Launch
This is looking towards the swimming beach from the boat launch. If you are coming early in the spring, check with the Forest Service to make sure you can launch your boat. Sometimes the lake level is too low until the snow melt fills it up.
Picnic Tables and Grills
The Day Use area in Sam Owen Campground has picnic tables and grills overlooking the swimming beach. Restrooms and a Women's dressing room is also available.
Sam Owen Day Use
Picnic tables are shaded right next to the sandy swimming area and within sight of the parking lot.
Clear Water of Lake Pend Oreille
Crystal clear waters of Lake Pend Oreille - let's keep it that way. No bathing allowed.
Same Owen Campground Map
Reservable sites are marked. Notice the beach areas where dogs/pets are and are NOT allowed.
Sunset from Sam Owen Campground
Looking west from the boat launch across the dog beach.
Osprey Spreading His Wings
This young osprey is thrilled to have caught and eaten his own catch. Is he guarding his lunch or just proud of his accomplishment?
Osprey Guarding Lunch
The young osprey is proud of eating his own catch after depending on mom and dad for so long.
Beyond Hope Marina
Sam Owen Campground does not have a place to moor your boat overnight. It is dangerous to beach your boat overnight due to common, although unexpected, storms that have swamped and damaged boats.
Beyond Hope is actually the name of the "town" or community. There is a marina, just past the campground, where you can moor your boat for a fee.
Swimming Beach
In the summer you can hear the live music from the outdoor concerts at the Beyond Hope Marina.
Picnic Area
The large Day Use area has about 10 tables and grills for individual families. A restroom with dressing rooms are close by.
Picnic Area Entrance
If you are camping in the Sam Owen Campground, your car pass provides you free access to the Picnic / Day Use area to launch your boat and park your trailer.
Accessible Picnic
Sam Owen Day Use area also has some ADA sites overlooking the swimming beach.
Deer in Gazebo
Deer will eat food off your table, even if it is in an enclosed gazebo. Store your food out of sight.
Deer in Sam Owen Campground
Do not feed the wildlife. There is plenty of natural food for them. Feeding them does not make wildlife more tame, it makes them more dependent.
Sam Owen Swimming Beach
Deer are not pets so they can walk anywhere they want.
Sam Owen Wildlife
Don't you just love a romantic walk on the beach!
View from Area Manager's Site
Lake Pend Oreille has Many Moods
Stormy Lake Pend Oreille
Powerful storms can come up quickly. Watch for weather as you are out on the lake.
Osprey
This young osprey hasn't left the nest yet.
Pileated Woodpecker
These large woodpeckers frequent the campground