July through September are historically the warmest and driest months on the Oregon Coast; making for spectacular views along the beautiful coastline. Couple that with great crabbing and fishing seasons and you'll have trouble deciding which campground best suits you. Tent, RV and horse camp from Waldport's Alsea River to Florence's Siuslaw River. North to south is the best way to travel as you can easily stop at every overlook.
Page through the virtual tours of our year-round campgrounds below or read about all the National Forest campgrounds on the Central Oregon Coast here: Central Coast Ranger District
18 miles inland from Waldport, Blackberry Campground, has a boat ramp for fishing the Alsea River; no RV hookups:
Alsea River Fish Habitat
Blackberry Campground is an excellent base camp for fishing the Alsea for salmon, steelhead and trout.
Fish habitat is extremely important in Oregon. Take time to explore and learn about local salmon and trout and protecting their habitat on the Alsea River. Fall Creek Hatchery and Research Center is just a few miles east of Blackberry Campground.
Reservations
Some campsites are reservable during the summer months. Others are left for first-come-first-served campers. 
Pull-thru Campsites
There are a few pull-thru campsites in Blackberry. Campsites are roomy with distance between.
Blackberry Restrooms
New, clean, well-vented, vault toilets
Rough-skinned Newt
Kids love to play in the Alsea River from Blackberry Campground. The newts are fun to catch but wash your hands after you play with them. Their slime can be toxic.
Rough-skinned Newts - Orange Belly
Apparently adults like to catch them too. I'm not sure who is cuter!  Remember to wash your hands after handling as their secretions can be toxic. 
Nearby Alsea Bay Harbor Seals
Waldport is just 18 miles from Blackberry. The harbor seals are always fun to watch from the Alsea Bay Bridge. 
Winding Alsea Hwy 34
Hwy 34 is an old logging road from Philomath to Hwy 101 on the Oregon Coast. It is well maintained and a beautiful drive. Take your time and enjoy the ride!
Blackberry Boat Launch
Drift boats navigate this stretch of the Alsea River. But people also fish from the shoreline of the campground.
Governor Patterson State Park
Day Use parking for beach access just south of Waldport, Oregon.
Beach - Governor Patterson State Park
This is looking north from Governor Patterson State Park. The water is where the Alsea Bay flows out into the Pacific Ocean.
Port of Alsea Restaurant Row
There are 3 or 4 small eateries here and around the corner.
Port of Alsea, Waldport, Oregon
Picnic tables, parking, boat launch, kayaking, eating. Rent a crab pot, crab off the dock and they'll cook'em up for you at the Dock of the Bay Marina.
Alsea Bay Bridge
Crabbing, shrimping, kayaking, birding and
watching all of the above
Blackberry Campgroun Map
Reservable sites are marked with an R on the map.
Between Waldport and Yachats, on Hwy 101 milepost 160.5, Tillicum Beach Campground overlooks the Pacific Ocean and has stairways to access the beach; electric/water hookups:
Crab Float on Tillicum Beach
Tillicum is a wide, sandy, beach on the central Oregon coast.
Tillicum Beach Campground Sign
8199 Hwy 101, Yachats, OR 97498
Tillicum Beach Campground is about 4 miles north of Yachats and 4 miles south of Waldport, Oregon, on the central Oregon coast.
Tillicum RVers
Campsites accomodate tents and RVs.
ADA Restrooms
Tillicum has accessible restrooms and campsites.
Campsite #30 Overlooks Tillicum Beach
Some campsites sit right on the bluff overlooking the beach.
Campsite #34 with a View from the Trees
Site 34 sits up on a hill. You have some protection from the elements and have a view of the Pacific Ocean.
Beach Access
Tillicum Beach Campground has 2 stairways (about 20 steps) to provide easy access to the beach.
Purple Dwarf Olive
Olives are snails. You'll see patterns in the wet sand where they come up on the surface.
Ochre Sea Star
Ochre Sea Stars range in color from purple to orange.
Pacific Mole Crab
Adult Pacific Mole Crabs are about 2 inches in length. They burrow into the wet sand and the crows and seagulls dig them out to eat their eggs.
Sea Gooseberry
Not edible. They are a type of jelly. They have 2 tentacles. They are not highly poisonous but could cause itching and a little redness when handled.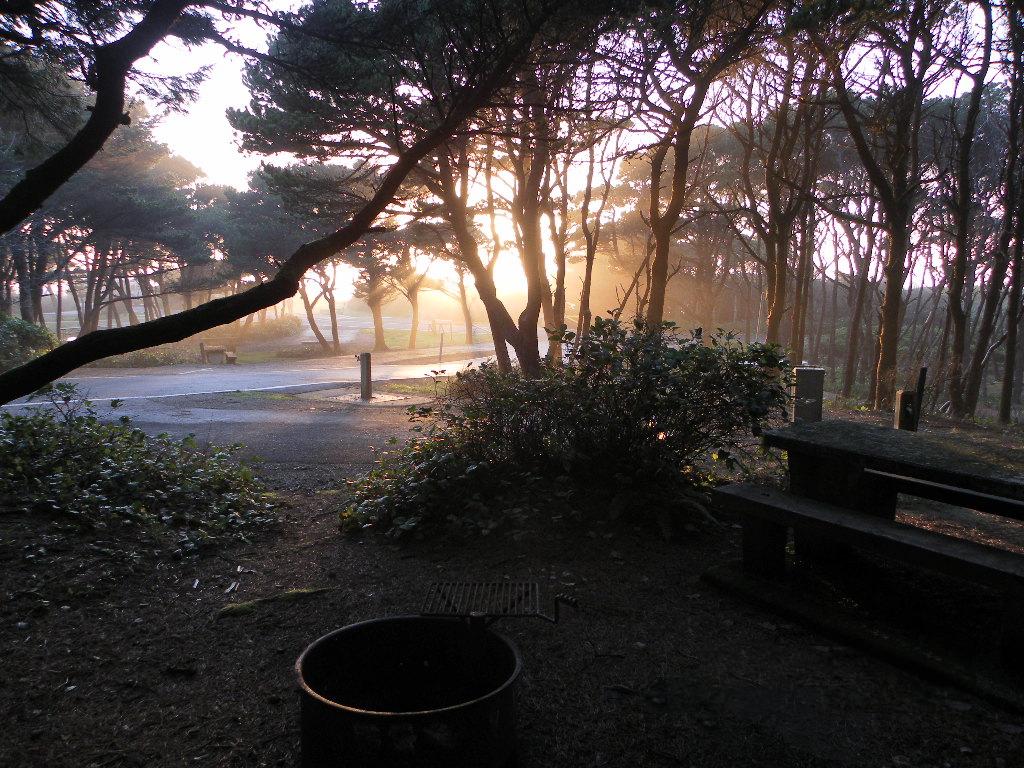 Campsite #20 - Electric/Water Hookup
There are no sewer hookups for customers at Tillicum Beach Campground. However, there are a few electric/water sites.
Salal Berries
Edible - high in fiber - tastes like a blueberry
Huckleberry
Edible - tastes yummy on cereal!
Tillicum Beach is Rarely Crowded
8 miles of wide, sandy, beach provides plenty of room for people to spread out.
Eagles on Tillicum Beach
Eagles nest on nearby Big Creek. They bring their young to Tillicum for some hunting training.
Treasure Hunting on Tillicum Beach
These Japanese floats are a common sight on Tillicum Beach.
Brush Bunnies
Brush Bunnies make their home in the salal bushes.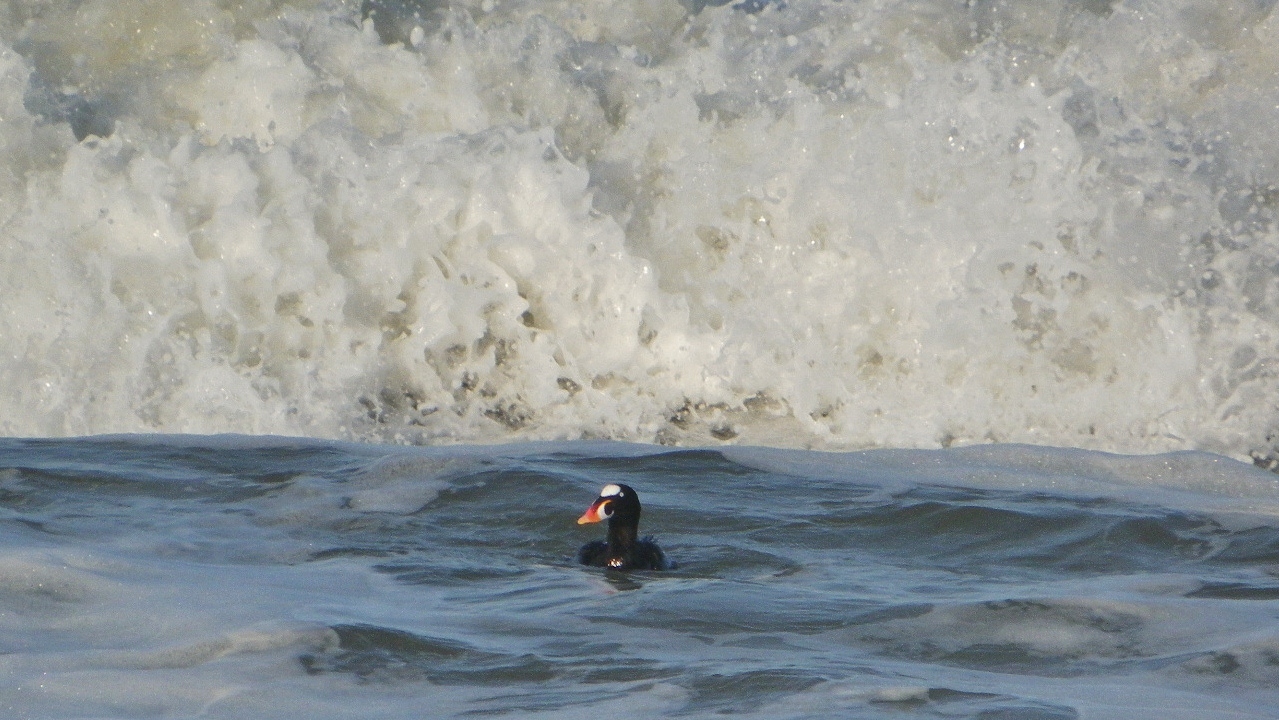 Surf Scoter
Diving birds dodge the waves.
Mushrooms
This is a lobster mushroom. If you cannot accurately identify wild mushrooms, do not eat them. Never eat them without thoroughly cooking them.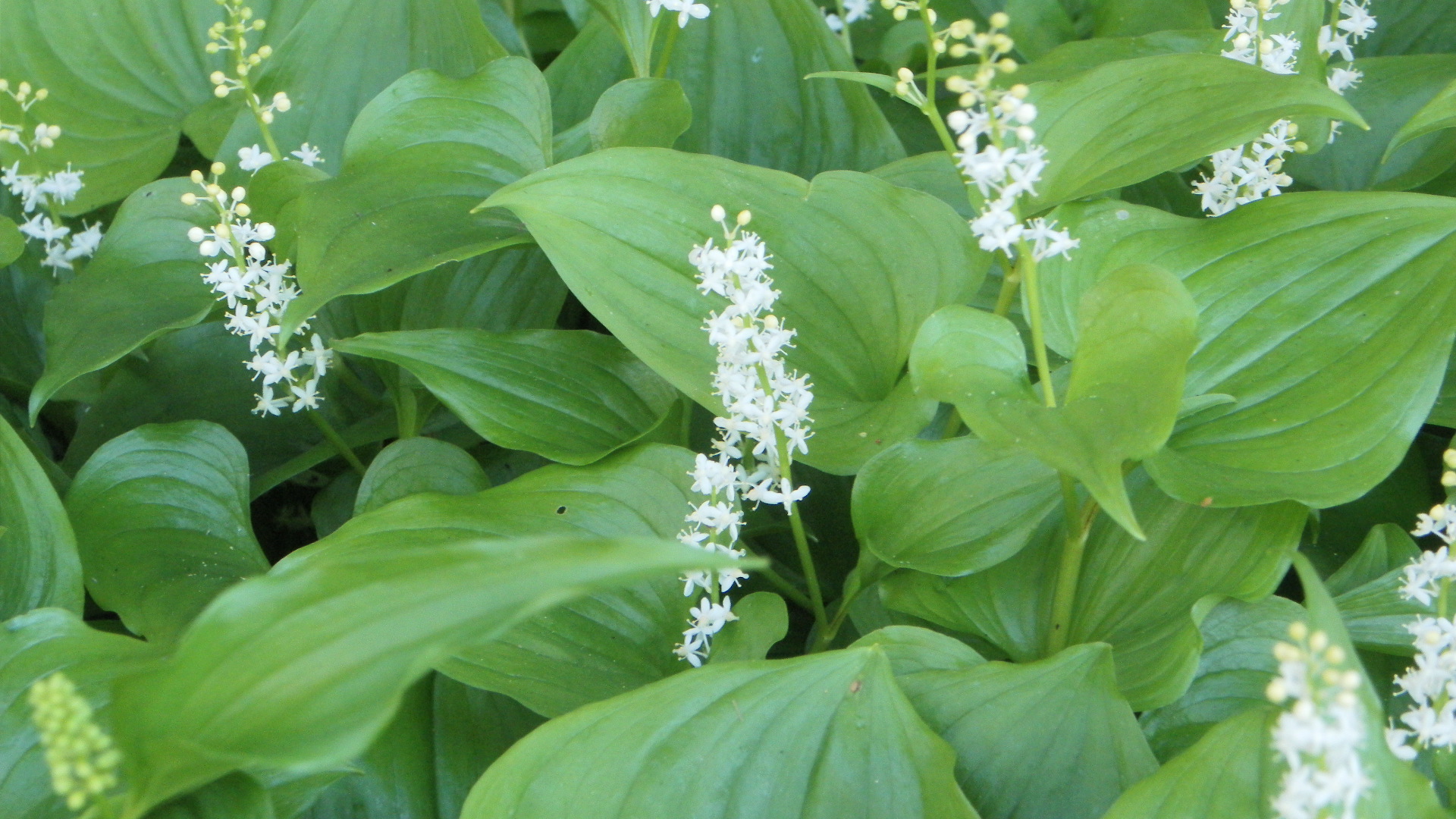 False Lily of the Valley
This pretty groundcover provides a lush, green, carpet throughout the campground.
Sandcastles on Tillicum Beach
Killer Sunsets on Tillicum Beach
What could be more romantic?
Bear Tracks on Tillicum Beach
Yes, a black bear will occasionally wander into the campground. Keep your campsite tidy so he won't stop and eat in yours!
A fed bear is a dead bear.
Further south on Hwy 101, 2 equestrian camps provide trail access to what the Central Oregon Coast is famous for, old-growth forests and sandy beaches. There are no RV hookups and no drinking water in the campgrounds.
To access Horse Creek Campground turn off Hwy 101 around milepost 180, on Forest Road 58. FR 58 does not have a sign on Hwy 101 as it is on sharp switch-back curve just south of Sea Lion Caves. Please use caution.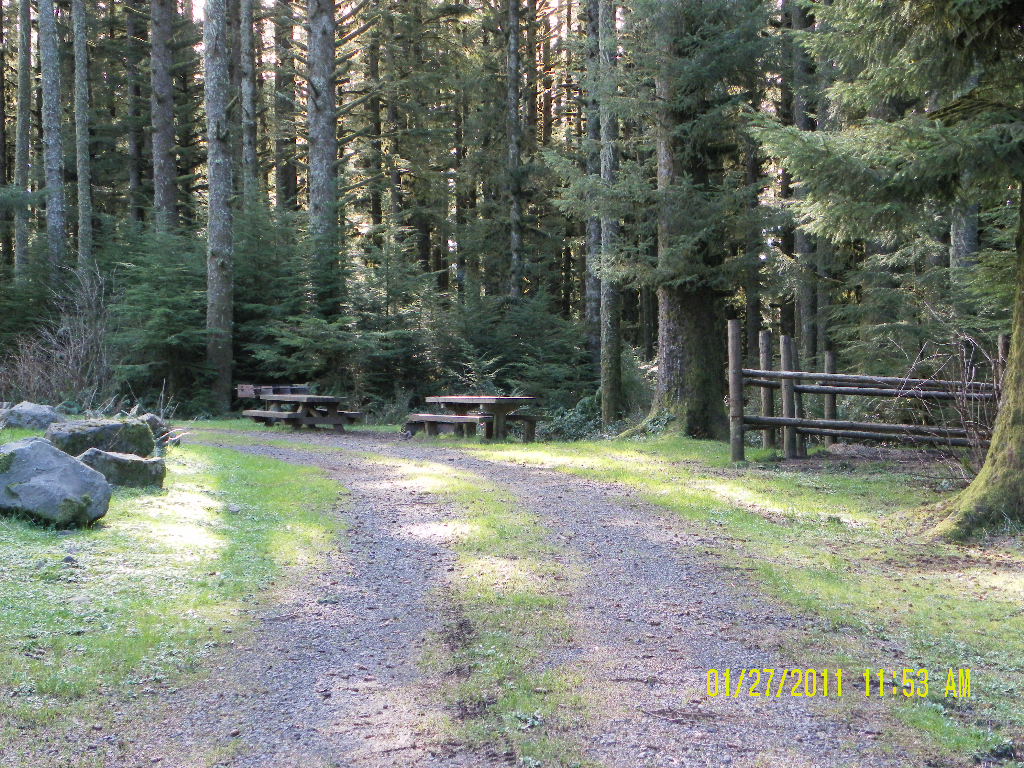 Double Campsites
There are 2 pull-through campsites that are large enough for 2 trailers. They are equipped with 2 corrals.
Oregon Coast Horse Trails Map
Horse Creek Campground provides 16 campsites and a vault toilet on the Coast Horse Trail. The trail winds through old growth forest past beautiful vistas of mountains and the Pacific Ocean.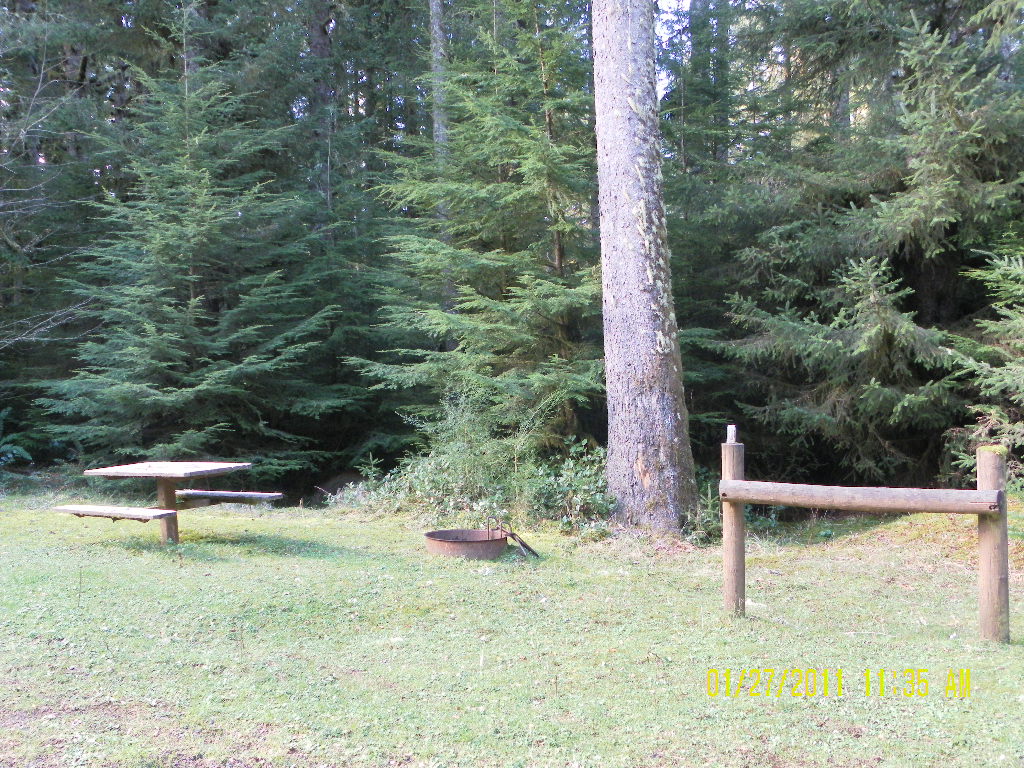 Campsites
Campers without horses may camp at Horse Creek Campground. However, we ask that they leave the corral sites for those with horses. You never know when a horse club will show up to spend a few days. 
Salmonberries and Thimbleberries
The delicious fruit is abundant in Horse Creek Campground.
Equestrian Facilities
There is no potable water in Horse Creek Campground but there is a creek, nearby, for horses to drink from. 
Various-size Campsites
All campsites have a picnic table and fire ring. 2 sites have no corral or hitching post. Some sites well suited for tents.
Campsites are partially shaded
Horse Creek is nestled among huge Douglas fir and Sitka spruce at the top of Cape Mountain near Florence, Oregon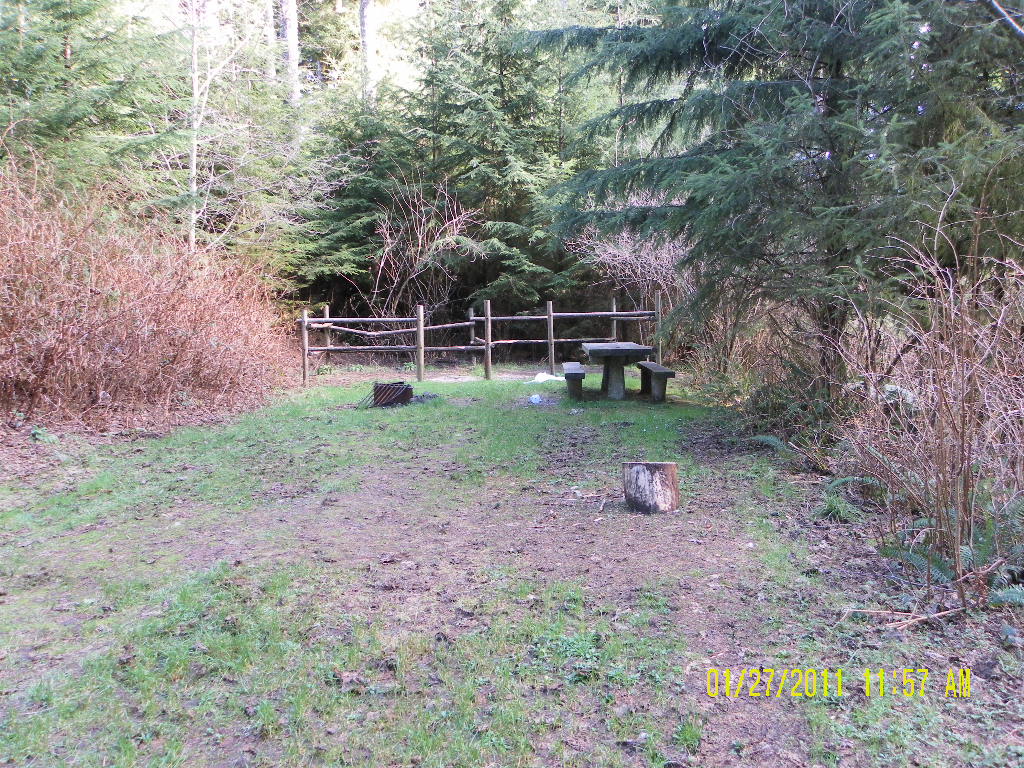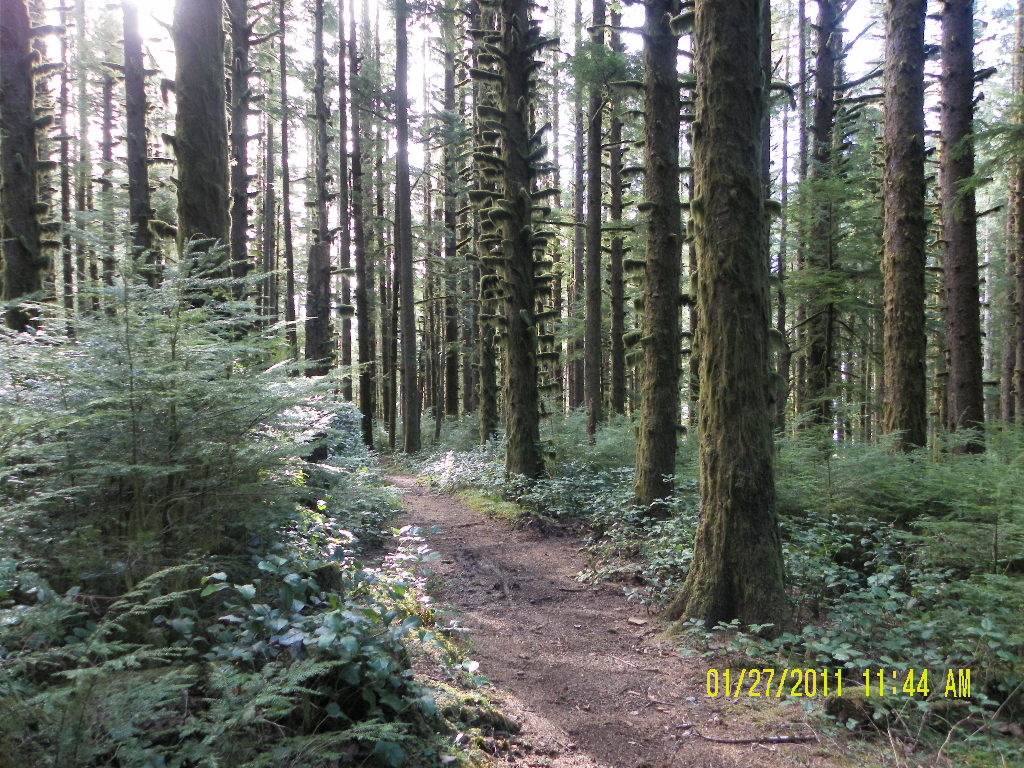 Oregon Coast Trails near Florence, Oregon
Hikers, horses and wildlife share the well-maintained trails on Cape Mountain with overlooks of the Pacific Ocean.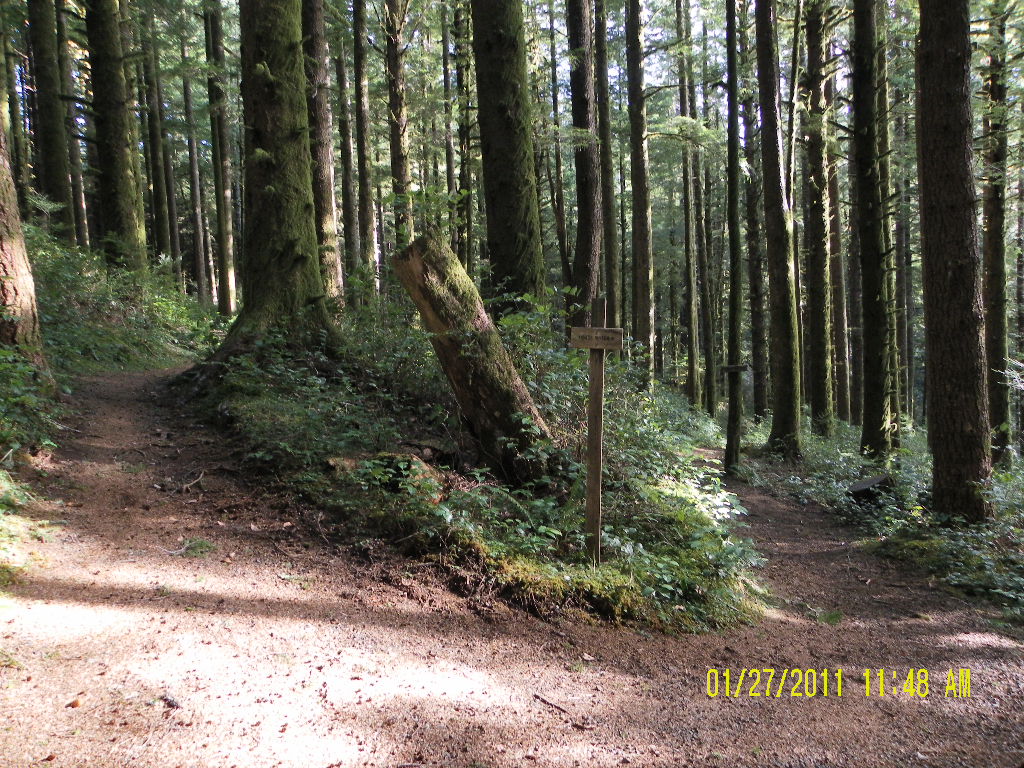 Trail Signs on the Coast Horse Trail
Watch for signs along the Coast Horse Trail.
Horse Creek Campground Map
Access the Oregon Coast Horse Trail from the campground.
Alder Dune Campground is set in a coastal forest on 2 trout-stocked lakes near Hwy 101. Watch for the sign on Hwy 101 between mileposts 183 and 184; no RV hookups:
Alder Lake Hiking Trail
Hiking trails around Alder Lake.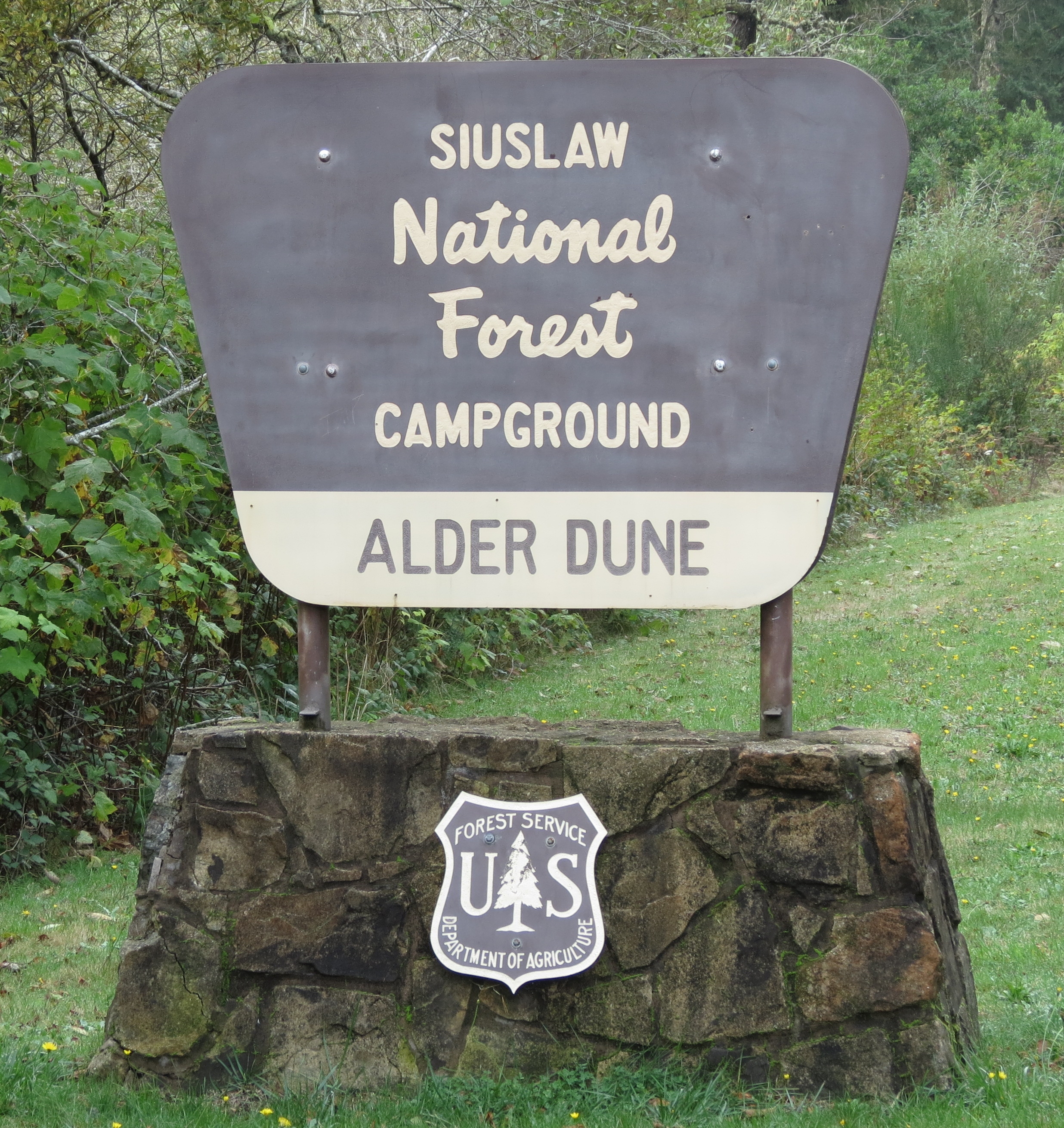 Alder Dune Campground Sign
89630 Hwy 101
Florence, OR 97439
Alder Dune Campground sign, on the west side of Hwy 101, north of Florence, Oregon
Fishing Dune Lake
Alder and Dune lakes are stocked with small, large and trophy-size trout.
Great Blue Heron
People aren't the only ones who like to fish in Alder Dune Campground
Some Campsites Border Alder Lake
Campsites are mostly shaded and some border Alder Lake.
Coastal Forest
Alder Dune Campground is set in a coastal forest. Dense foliage provides good separation between sites.
Romantic Getaway
We call this the Honeymoon Suite of Alder Dune Campground because it is so private. But children also like it because they feel like they are in a "fort" where you have to cross the mote on the bridge.
Trail Map
This is a map of the trails within the Sutton Recreation Area
Bike Camper
Although the Oregon State Parks have bike camps, where you share picnic and fire rings for a reduced rate, Alder Dune has no such facilities. Alder Dune is a National Forest campground, not a state park.
Level Campsites
Most campsites are level but some more so than others. We allow tents, trailers, RVs, bikes and hikers.
Fit for an RV
Alder Dune has campsites with short and long parking spaces. Some are reservable during the summer months, others are strictly first-come-first-served. There are no electric or water hookups in the campground.
Vault Toilets
There are 2 vault toilets in the Alder loop and 2 in the Dune Loop of the campground. On-site campground hosts keep them sweet-smelling and sparkling clean. 
Campground Map
Alder Dune Campground map shows lakes, trails, restrooms, where to get drinking water and find the Host.
Between mileposts 185 and 186, camp in Sutton Recreation Area to hike through coastal forest and sand dunes along Sutton Creek; electrical hookups available year-round:
Looking South over Dunes and Baker Beach
As you drive south on Hwy 101 from Sea Lion Caves you'll come to this beautiful overlook of the Oregon Dunes. Sutton Recreation Area is nestled in these older dunes where the coastal shrubbery thrives.
Turn west at the Sutton Recreation Area Sign
1 mile from Hwy 101 is the Sutton Campground entrance. It is a year-round campground with electric hookups.
Year-round Sutton Campground
Sutton Creek
Sutton Campground is cozied up to Sutton Creek as it winds its way to the ocean.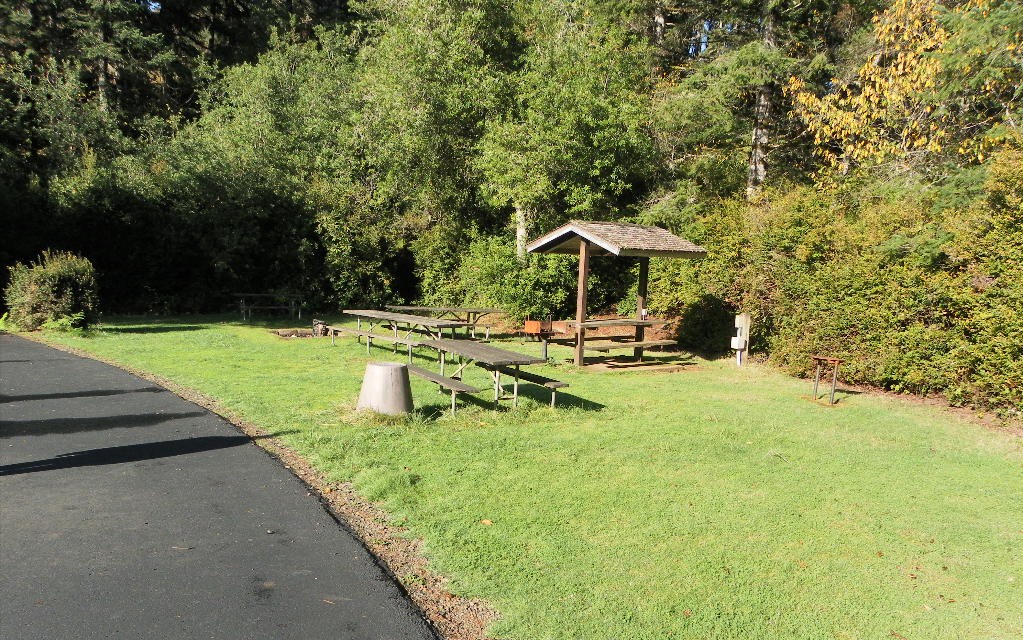 Common Area in Loop D Group
Loop D can accommodate from 30 to 100 people. It has 11 paved parking spurs for vehicles or RVs; including 2 electric hookup sites. This common area has picnic tables, a group fire ring, extra parking and a small covered table with an electrical outlet for small appliances. D001 is the designation for this area on http://www.recreation.gov or call 1-877-444-6777.
Loop D Parking Spurs
Your group can spread out in the Loop D (D001) group area of Sutton Campground. There are 11 campsites, including 2 with electric hookups, and a large common area for games. Playing on the sand dune is also a favorite activity. This group are is more isolated from the rest of the campground.
2 Electric Hookup Sites in D001
Loop D Group Playing Area
This playing area is right across from the common area.
Group Overnight or Picnic Area - Loop C
This group site has a large pavilion with picnic tables, grills and a group fire ring. Men's and Women's flush restrooms and a large parking area for up to 20 vehicles are on-site. Reserve your group picnic or overnight camping up to a year in advance on www.recreation.gov or call 1-877-444-6777. The designation for this site is C001.
Expanded Use Group Area - Loop C
In the past this beautiful group area has been under utilized as a picnic area only. Beginning in 2013, this group site is also able to be used for group camping for up to 100 people. This is site C001 on www.recreation.gov.
Sutton Campground Map
This map was updated in 2013 to include the C001 group overnight camping area. C001 can be used for either picnic or overnight camping. The price is the same.
Sutton Trails Map
Trails lead along Sutton Creek, over sand dunes, and if you aren't worn out by then, out to the beach. Take a friend and make noise, black bears live in the area.